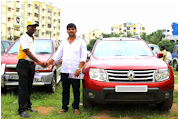 Indian Auto-Industry being one of the largest industries in the world accounts for 7.1 % of the country's Gross Domestic Product (GDP),
The sales of Passenger Vehicles (PVs), Commercial Vehicles (CVs) and Two-wheelers (2Ws) grew by 9.17%, 3.03% and 8.29% respectively, during the period April-January 2017.
With the growth specifically in the passenger vehicle segment, Industry now, expects Indian passenger vehicle market to reach four million units by 2020, up from 1.97 million units in 2014-15.
PVs being one of the most competitive segment of the industry in the world, witness quite a shift in its trend with time.
With number of models, in the market to choose, SUVs have powered their way into the Indian
passengervehicles
industry, accounting for
one
out of every
four
new vehicles sold in the market.
With each passing year, this SUV trend is getting even stronger, as manufacturers with advance alterations are focused to bring new models in the market.
SUV trend, which witnessed only 14 % share in the overall passenger vehicle sales in 2010, has now very efficiently crossed 25% share at the end of March this year.
And with the diesel as the preferred engine option, SUV witnessed the sales of over 30% in 2016-17, which was quite remarkable as compared to the total 4 per cent growth in sales of cars.
With the indication that new models and trend is giving us, we can see this segment of the industry to grow on year on year (YoY) basis, as SUV is already a global trend and is now very much liked in India as well.
With every new SUV sold, sales of used SUV go up as well, thereby making Used SUV market to grow along with the New SUV market.
Shriram Automall India Limited (SAMIL), being the largest and No.1 platform for Acquisition and Disposal of
Used Vehicles
& Equipment in India, offers the huge
inventory
of SUVs of every make and model at optimal prices.
Customers can opt for any platform to take home the desired used SUV of their choice. As now, they can even opt for
Live Bidding
option, at their convenience from their home with their Desktops or through "
My SAMIL App
" from their smart phones.
So, be economical, be smart, and in low budget buy better used SUV of choice able make & model from
ShriramAutomall
for long term optimal results.
You can also click the link below for easy registration.