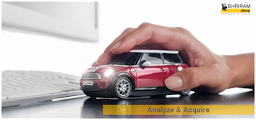 In the era, where everybody is looking forward to save few bucks for the future, while enhancing their standard of living. Buying a used car online is a good as well as a smart way to go as it can help you save your money, in several ways.
Used cars are of a great value these days as they last long and as the new car comes out of the showroom it depreciate in price, so used cars often come in good condition at low price.
Shriram Automall India Limited (
SAMIL
), No.1 Platform for buying or selling used vehicles and equipment in India, understands how paying a lower purchase price for the same "used" car model rather than "new" is the obvious reason for customers to buy a pre-owned car, therefore company has brought huge inventory of used cars of every make and model in its 67 Automalls sprawling in the country.
Now, by giving its customers further more reasons to buy the "used car", company has bought application like "
My SAMIL APP
" and facility like "
DESKTOP BIDDING
". So, those customers could buy their desired used car at their convenience at their comfort in today's busy, hectic life style.
These facilities while boosting the customer experience will also provide best used cars at prices customers will be glad to pay. Let's check out some benefits of buying a used car online.
Easy Search
Free and easy search option, as search for your new "
Used Car
", goes easy and free when looking online. At your convenience you can easily, download the app or go through the online bidding portal to choose the desired used car to bid on.
We all know buying a used car, saves money. But, buying a used car saves further more money and time and makes the whole process of buying a used asset much more easy and efficient.
Cost of car insurance, is the value of the car and as the cost of used car is low than a newer version, the cost of insurance will also be less.
Comprehensive and theft insurance costs are likely to be less
As with the used car, you don't have to worry about it, as some elements of car insurance can be dropped.
The rate of depreciation over time will be less than the first two years of ownership of a new car
New car's price depreciates quite faster as compared to the used car. So, you never have to worry about the fall in value of your used car while re-selling it.
A buyer may be able to step up to a luxury model for the same price as a new plain version
As in the budget of a new-car you can always go for the luxury used car, which will serve you better, last long and will also fulfill your desire to be the owner of a luxury car.
SAMIL
, as a pioneer offer multiple platforms for easy, transparent Acquisition and Disposal of used vehicles and equipment in India. You can also take the benefit of company's facilities and services through its "
My SAMIL App
", by visiting your nearby Automall in person or by simply clicking the link below to register yourself.