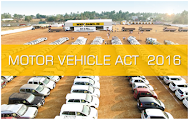 Cabinet recently approved the amendments in the Motor Vehicle Act bill 2016. The bill was introduced with 89 clauses for amendment out of which only 57 were accepted by the Parliament Standing Committee on Transport, headed by Mukul Roy. Major amendment includes linking of driving licence and vehicle registration with Adhaar-based platform and proposes heavy penalties for traffic violations.
Now people are not required to visit the local RTO office to get a learning licence instead they can apply for the same online. The Bill also proposes Aadhaar-based verification for grant of online services including learners licence. This would ensure the integrity of the online services and also stop creation of duplicate licence.
The bill specifically targets traffic offenders with stringent penal provisions. It has also identified priority areas for improving road safety. Stricter penalties are proposed for high risk offences such as drunk driving, dangerous driving, overloading and non-adherence to safety norms by drivers etc.
The bill aims to provide for maximum governance with minimum government. This would help in reducing the harassment faced by the citizens in the RTO offices. A national data base of vehicles and driving licences would help in safety and security and avoid malpractices.
The two major suggestions rejected by the government include registration of vehicles by only RTO and inspection of vehicles by RTO. Once the bill is approved vehicle dealers will be authorised to issue vehicle numbers and register them through an all-India electronic register.
'With the new Motor Vehicle Act 2016, we believe that India has set an example for other developing nations to follow where it cares about the life & prosperity of commuters and believes in simplifying rigid practices by ensuring maximum governance with minimum government.'
Said Mr. SameerMalhotra, CEO Shriram Automall India Limited (SAMIL)