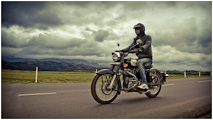 For the people who are fond of riding a bike or have a bike, are not unaware of the fact that riding a bike is fun and fuel efficient.
But also Bikes/Motorcycles can be quite dangerous; in fact they are indeed dangerous as compared to cars. So, one should always be aware while riding a bike if he/she loves his/her life. As cold truth is motorcyclists are 30 times more likely to die in a crash than people in a car.
Therefore, we at Shriram Automall India Limited (SAMIL) assume that one can never learn to ride a motorcycle completely, as there is always something to learn whether you are a fresher or have been driving a bike for ages.
We don't realize it, but most of the motorcycle accidents are preventable, and even in unavoidable wrecks, there are precautions that can help reduce the severity of injuries.
So, let's go over the Safety Tips and tricks one should never take for granted!
Wear a Quality, Full Face Helmet
No matter what, never ever forget to wear the Helmet, before riding the Bike, even if you are going to some nearby destination. As you never know, what might be waiting for you? So, always be one step ahead, as prevention is better than cure!
Don't Drink & Drive
If you are drunk, simply don't drive & if you have to drive simply don't drink. As Alcohol slows your reaction time and messes with your judgment. Fun is not more than life, and you poor decision of driving while you are drunk can not only mess up with your life but also turn other road user's world upside down.
Eyes Of the Skies
While taking the long road trips, sometimes your mind drifts as long hours of driving can be quite hectic and tiresome for both car and motorcycle drivers. But, Car drivers still can afford a little mental vacation while driving, but bike rides just can't and so they shouldn't. Therefore, they should use their SEE (search, evaluate, execute) strategy to keep their minds engaged on short or long trips.
Avoid Flip-Flops & Short sleeves
Road on which motor vehicles are driven are quite rough and can cause severe injuries, if just in case you met an accident. As you already know that motorcycle crashes almost always result in some sort of injury, be it minor scrapes, or compound broken bones and sometimes even gaping flesh wounds. So, it's better to take care of yourself than being scared for life.
Inspect before you, Intersect!
In most cases, drivers of passenger vehicles violate the motorcyclist's right of way and, as a result, cause the collision, which can be quite dangerous. So, you better be alert and assume that a passenger vehicle driver might not give you enough space to pass through, so don't hurry and ride defensively, as this way, you could dodge a really large, wheeled bullet.
Practice to Deal with Panic Situations
If you find everyone driving safely and friendly on road, then driving a motorcycle can be quite an easy task. Otherwise, you often have to dodge other vehicles to avoid a wreck. And in India, there are minimal chances of having a chance to drive on the road where there are safe and friendly drivers. So, practice emergency Braking and Steering at your best for your Road Safety.
Try to wear Neon Clothes
While driving at night, prefer to wear clothes especially made for motorcycle riders, as that would make you more visible to your fellow road commuters. So, make yourself as visible as possible and also consider installing a motorcycle headlight modulator on your vehicle.
As being Seen, is being Safe!
Stay Slow
At highways, catching up with the thrill of riding a Motorcycle might be fun and thrilling but really not safe. So, Slowing down and remaining at the speed of the traffic around you is a great strategy for survival.
Keep tab of your Tires & Bikes
Make a checklist, and check for all the required parts of your bike that you simply can't afford to fail while you are on road like brakes & tires. Take your bike for regular servicing and always be in check before you hump on it for safe travel.
Ride a bike, only if you are in right senses
Riding bike needs awareness and eye for on road detail, and if you are feeling very distracted, emotional, sick or just tired, you're better off driving your bike today, as your distractions and lack of awareness on road, can turn out to be a disaster for yourself, as well as other road commuters.
Shriram Automall, hope for your safe and sound journey, here is the sum up of things to keep in mind while riding a motor vehicle.
·
Look Twice Before Turning
·
Educate Your Fellow Passengers
·
Ride Within Your Skills & Don't Be a Hero
·
Take a Motorcycle Safety Course For Further Assistance
Riding a BIKE, is an art- Ride Free, Ride Safe!