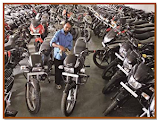 It's no more just a statement that "Slow & Steady wins the Race" as Indian Two Wheeler Segment has steadily been on the rise and is now right at the top of list, while displacing China from its perch.
According to officials from industry body i.e. Society of Indian Automobile Manufacturers (SIAM) as well as data from the China Association of Automobile Manufacturers, India while making it total of 17.7 million two-wheelers, sold over 48,000 units every day, where neighbouring China sold 16.8 million units in total, last year.
And the credit for this rise goes to the majority of young women in India, as out of every 4 Scooters sold, one scooter buyer is a women. The leading scooter brand HONDA, witnessed the 35% share of women for such a robust growth.
Over the past few years, china has been on a decline, from 25 million or so, due to the fast-paced growth in car sales there as well as the curbs on petrol two-wheelers in top cities. On the other hand, Indonesia is holding on to the position of third-largest two-wheeler market with annual sales estimated at 6 million units, though here too sales have slipped from 6.5 million units sold in 2015.
India's emergence as the world's largest
two-wheeler
market despite the demonetization effect in November and December 2016 reflects the rise in demand of Mobility in India. With such growth this fiscal we can expect the industry to rise further with steady demand & at a higher pace during 2014-2019 in urban as well as rural spaces.
With industry witnessing the remarkable growth, we can expect the used two wheeler industry to grow as well.


As for first time buyers, used vehicles are mostly the first choice. Not just that, for the buyers who have been driving vehicles from quite some time, used vehicles are becoming the first choice, as used vehicles don't depreciate much at the time of re-selling, and also provide the best on-road experience possible to the buyer.
Shriram Automall India Limited (
SAMIL
), the Largest Service Provider of
UsedAutomotives & Equipment
in India, has the huge line up of Two wheelers, which is lately the largest in demand segment of automotive industry. So whether urban or rural, if you are interested in buying or selling used two-wheelers visit your nearby Automall soon.
You can find used two-wheelers of every make and model in the Automall. You can also download "
MY SAMIL APP
" or use "
Desktop Bidding Facility
" to make the deal at your comfort. If you are in hurry, then simply click the link below and register yourself, our professional team will help you with rest.
http://bit.ly/2c2UwQN