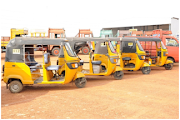 According to a report by ICRA, India is positioned as the largest manufacturer as well as market for three wheelers, globally.
Over the past decade during FY 2006-15, the Indian three wheeler industry grew at compounded annual growth rate (CAGR) of 8.9 per cent in unit sales driven by steadily rising exports as well as domestic demand.
Despite the fact that the usage of CNG is only mandatory in Delhi, the acceptance for CNG-based three wheelers has caught up in other cities as well.
With the rapid expansion of taxis from Ola and Uber in most cities, one might expect sales of three-wheelers (auto rickshaw) to go down. Well, that's not the case. Three-wheelers, most of which are passenger carriers, have grown by a sharp 13.4 per cent in the first six months of FY17, higher than the 12.34 per cent growth seen in
passengervehicles.
Factors like compulsory use of CNG and its declining prices are aiding the demand for three-wheelers. Another reason is three-wheelers provide last-mile connectivity at affordable rates and therefore there is a potential for sales to grow.
Ratio of new three-wheeler sold; to that of the old ones is 1:1. This means that people are equally interested in going for a properly maintained
pre owned three-wheeler
as compared to investing in a new one.
With the increasing demand for three-wheelers and in spite of having many players in the market who are dealing in the same segment
Shriram Automall India Limited (SAMIL)
has become the no.1 solution provider for both public and private enterprises.
Shriram Automall has become the largest player and first choice of the market through their huge
inventory
of pre-owned three wheelers in good quality and at reasonable rates.
So, if you too are looking forward to buy a pre-owned three wheeler, Shriram Automall is right choice which provides you best of their
services
while making your experience both easy and comfortable.