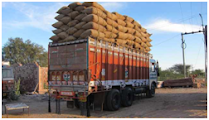 As state border barriers began to be dismantled after the goods and services tax (GST) which came into force on July 1, a truck from Chennai to Jamshedpur carrying tyres reached in three and a half days which earlier would have taken five days.
After states abolished border check posts in the wake of GST, Many producers and transport operators has reported logistics efficiency gains. GST indeed is the tax system which promises one nation, one tax, one market.
But while there's evidence of barriers going down, there is also enough indication that not all of officialdom seems to be on the same page. Regional Transport Office (RTO) employees are said to be stopping trucks and seeking monthly payments for various charges while mobile squads are making surprise checks and seeking payoffs. Yet there has been significant improvement in just about a week's time.
In the long run, people will see the substantial improvement in efficiency of the logistics sector. As the average truck speed is already up. More transparency will come with the E-Way bill.
Fleet owners are happy as travel time has really came down the tankers which once used to take Six days to reach Uttarakhand from Odisha, now reach in just4 days.
As before Trucks would spend hours at state borders, waiting to pay taxes, delays that encouraged corruption. Logistics cost may also decline by least 20% as in India logistics account for 14% of GDP as compared to that of 8.5% for US. New costs will come down as the 'one nation, one market' begins to take shape under GST.
Since 22 states have already dismantled border checkpoints, the time for the movement of the goods from point to point has come down significantly.