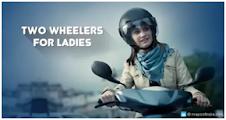 It's no new news that, India while overtaking China has emerged as the world's biggest market for two-wheelers. As a total of 17.7 million two-wheelers were sold here last year, that's over 48,000 units every day.
The need for mobility is very large in India, and country is also has one of the fastest developing economies in the world. Easier finance options, newer and more fuel-efficient models, rising incomes have only added to the push even as new business models, such as e-commerce, also help purchases.
Two-wheelers are increasingly becoming the second vehicles in the household, and women plays quite an important role in making India the world's biggest market for two-wheelers, as women today is independent and look forward to comfort and style in everything they own – whether it's a pair of shoes or conveyance for commuting to various places they desire.
Therefore, many players in the industry have started dealing in used two-wheelers. But Shriram Automall India Limited (SAMIL), being the only and No.1
Service Provider
of Used Vehicles & Equipment in the country has bought huge variety of two-wheelers of every make and model at optimal prices.
Company understands that, buying a used two-wheeler isn't as easy as it sounds. So, here are quite a few things you need to consider when buying a used two-wheeler.
Take a look at 10 things you must look for while buying a
used two-wheeler
:
Budget
Weight
Auto start button
Storage
Maintenance
Location of service center
Height
Durability
Style & Color
Buying a used two-wheeler is a smart move as it saves you money, and let you acquire the better model at low cost. Now choose the right for you at optimal prices.
Hot Models In Demand for Women:
Honda Activa
TVS Scooty Pep Plus
Honda Dio
Hero Honda Pleasure
TVS Wego
If you are looking forward to buy or sell used vehicles, equipment or vehicles compliant with latest government emission norms,
SHRIRAM AUTOMALL
is the best place to come to. Visit your nearest Automall or download
"MySAMIL APP
" to go through their latest
inventory
filled with
used vehicles
of every make & model. You can also click the link below to simply register yourself.