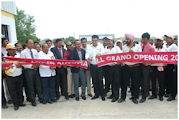 In past 6 years, since its inception, Shriram Automall, has created a name for itself at which we all are proud to look. SAMIL is the true name of trust and reliability, which has become the No.1 choice of customers all across the country.
With large database of customers to serve, company has remarkably marked its presence in entire country through sprawling 68 Automall facilities, which offer to serve all kind of used vehicles and equipment requirements, of customers in every nook and corner of the country.
As its endeavor to grow in every major city of the country, company has expanded itself quite exceptionally. Company by inaugurating its
first Automall facility in Chennai on 26th February'2011,
took its first step, towards the long term vision of "being the largest exchange platform for trading
pre-owned assets
having tangible physical presence spanning all major cities of India while providing high quality services to its customers".
As its 57th facility, company inaugurated a well established Automall in Latur on 14th June'2016. Automall was inaugurated in the area as company through its professional skills and long term experience, identified a great opportunity in that region of the country.
Over the years Shriram Automall's bidding events have become industry's most talked about innovation. There is nothing more exciting than attending company's bidding events to buy or sell desired choice of used vehicle or equipment, as company gains a leading edge over its competitors for implementing, the most
extensive line up
of
Used Vehicles & Equipments
of all make & models with dedicated team for each segment.
On 14th June'2017, Latur Automall will be completing 1st year of its existence while serving people in and across the area through its exceptionally professional and convenient services. Automall is very efficiently located in Latur, as district is primarily agricultural.
If you are an interested buyer or a seller of a used automotive or equipment,
SHRIRAM AUTOMALL
is the trusted name for optimal and convenient transaction. Visit the Latur Automall, on Anniversary Bidding Event, and take home desired used asset of your choice.