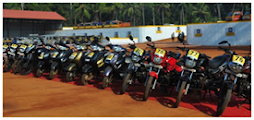 It's no more just a statement that "Slow & Steady wins the Race" as Indian Two Wheeler Segment has steadily been on the rise and is now right at the top of list, being the World's Biggest Two Wheeler Market.
India's emergence as the world's largest two-wheeler market despite the demonetization effect in November and December 2016 reflects the rise in demand of Mobility in India. With such growth this fiscal we can expect the industry to rise further with steady demand & at a higher pace during 2014-2019 in urban as well as rural spaces.
In June as well Two-wheeler makers had a different ride from car manufacturers. Against a double-digit decline in sales volume for passenger vehicles, most two-wheeler makers witnessed robust growth. The June performance growth was led by the country's biggest two-wheeler maker, Hero Motocorp.
Market is growing at such a remarkable speed that with price cut due to GST Rollout from July 1'2017 will expand two-wheeler market even further.
Hero Motorcorp's former partner and closest competitor clocked 4% growth in sales volume to 444,713 units. TVS Motor, the third-largest two-wheeler maker, saw its domestic sales volume rise over 10% to 228,518 units for June. Scooters' domestic sales volume grew 34% to 90,448 units while motorcycles expanded 17% to 112,146 units.
Beside the mobility demand and GST Rollout, healthy demand due to the ongoing marriage season coupled with upbeat rural sentiments are also the reason for such demand of two wheelers in India be it Used or New.
If you as well are looking forward to acquire your own two-wheeler, pre-owned bikes, scooty, scooters from Shriram Automall India Limited (
SAMIL
) are the best choice to make. Visit your nearby Automall today and take home desired used asset at optimal price. Company is best known for its transparent platforms and huge inventory filled with used vehicles and equipment of every make and model that give customers the power of choice in every nook and corner of the country. You can also click the link below to register yourself.
http://bit.ly/2c2UwQN